On Fire is a Sonoma County fireplace and outdoor luxury store like no other in the Bay Area. You'll realize that after you take one step into On Fire's beautiful showroom.
On Fire is a specialty store that focuses on beautiful fireplaces and outdoor living spaces. The On Fire team has worked on many projects including custom homes, hotels and inns, restaurants and wineries.

Gas & Electric Fireplaces, Outdoor Kitchens, & Outdoor Fireplaces
Convenient. Clean. Comfortable. Environmentally Friendly.
It's hard to deny the allure of a fire – especially our gas fires. Behind gorgeous designer faces and expansive windows,  log sets that create the illusion of real burning wood. But the hidden beauty here is convenience: a cozy fire at the touch of a button, even when the power's out; built in thermostats that regulate flame and heat; compatibility with LP and natural gas – your choice. All this comfort and convenience from clean-burning fuel. What's not to love?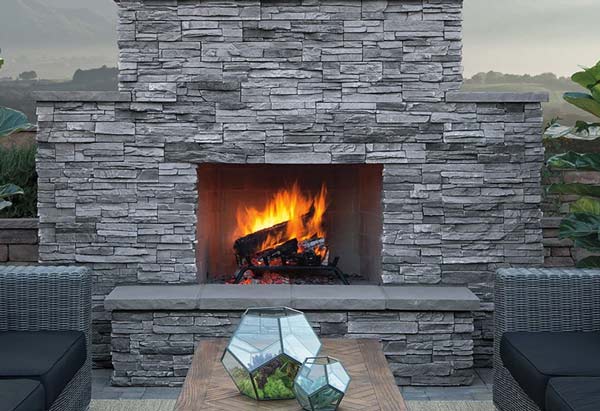 On Fire is a year-round source for heat and comfort –indoors and outdoors. With a carefully selected array of luxury outdoor furniture and umbrellas, barbecue grills, Brown and Jordan outdoor kitchens and outdoor heating products, including the ever-popular backyard fire pit, you will find many reasons to visit On Fire throughout the seasons.
The On Fire team will lead you on a journey of discovering the art of fire and how it can transform your living space with a well-designed focal point that will provide heat and comfort both indoors and out.
On Fire on Cleveland Avenue in Santa Rosa–lighting a better fire for you!
Outdoor Covered Kitchen Ideas: California and Florida Rooms
Outdoor kitchen covers are beneficial for protecting your investment, providing shelter, and reducing maintenance of your kitchen. A cover also makes your outdoor kitchen more usable during inclement weather. Some covers are easily removable, while others are permanent structures. While…
Simple Outdoor Kitchen Ideas: Designs and Considerations
More people are choosing outdoor kitchens for their luxurious and practical benefits as they remodel their outdoor living spaces. While the interest is there, not everyone has the space, budget, or desire for complicated designs. A common misconception is that…