Fireplace Inserts
Tired of coming home to the inconvenience of a wood burning fireplace? Fireplace inserts can solve your problems. Gas inserts are a perfect fit, for both your space and lifestyle. With the traditional look and the ease of a gas fireplace, it will bring you the best of both worlds. The gas inserts are completely airtight and are a perfect solution to your inefficient wood fireplace. Why not have the reliability that you depend on and the look you love, all in one?
Featured Brands
Fireplace X  offers four models of Deluxe premium gas fireplace inserts, with dozens of beautiful...

Tired of coming home to the inconvenience of a wood burning fireplace? Let the Kozy...

Gas inserts are designed to be installed within an existing masonry cavity or fireplace and...
The Best Features and Benefits of Gas Fireplace Inserts for Sonoma County, CA
What is a gas fireplace insert?
A gas fireplace insert is designed to fit inside an existing wood-burning fireplace. It produces flames like a wood-burning fireplace but is safer, more environmentally friendly and more heat efficient than an open-hearth wood burning fireplace.. It can be fueled by either natural gas or propane and is connected to the home's existing gas supply line. A gas fireplace insert is a great solution for those looking for a way to get away from the mess and drudgery of burning wood, while still providing energy-efficient heat.  Installation of a gas fireplace insert requires a gas line connection inside the firebox.  If your fireplace is not currently equipped with a gas line, it is usually possible to have a gas line installed..
What to consider when choosing a gas fireplace insert?
1. Gas Fireplace Inserts: How much will it cost?
When choosing a gas fireplace insert, there are several factors to consider when it comes to cost. Various options for decorative faceplates, interior panels, and log styles or other media such as stones or glass will affect the price.  Your personal style will ultimately drive the selection and final price.
All gas fireplace inserts require a direct vent flue system which is housed inside your existing chimney and finished with a vent cap at the top.  Prices vary for the type of system and for length of venting (single or two-story runs), but are not vastly different in cost.  The vent system is not included in the price of the insert, so it is an additional cost.
Natural gas and LP gas-propane inserts should be installed by a licensed contractor, as some manufacturers require this to validate their warranty. A licensed contractor can give you a quote for installation after making a visit to your home.  An experienced  fireplace-specialist contractor can also help you decide which gas insert will fit and most closely meet your needs.  The cost of installation added to the cost of the product you select and vent kit will give you a total cost for adding a gas fireplace insert.
If your fireplace is not currently equipped with a gas line, that is an additional cost to be considered.  Some fireplace-specialty contractors are licensed to add a gas line. Or a licensed plumber could add a gas line prior to the installation of the gas insert.
2. Gas Fireplace Inserts: Efficiency rating
When looking at the efficiency of a gas fireplace insert, there are a few different measures that are typically cited by manufacturers.  The first is the AFUE, or Annual Fuel Utilization Efficiency, which is a measure of how much of the fuel is actually converted to heat.  Thus the higher the AFUE rating, the more energy-efficient the appliance is and the more heat entering your home.
The Steady State efficiency measures how the gas is converted to heat once the unit has been heated up, while Thermal efficiency looks at the exterior temperature of the unit to give an idea of how efficient it is.
In the United States, there is currently no uniform test for gas appliances to accurately measure their efficiency.  However, in Canada, the Energuide Standard provides an easy way to compare the efficiency of different products by testing them in the same conditions.  This makes it easier to compare gas fireplace inserts side-by-side and make an informed decision when considering efficiency.  The Energuide Standard looks at not just the radiant heat of the appliance, but also the convective heat emissions to give an accurate measure of the appliance's efficiency.  Higher efficiency equipment uses less energy and the savings realized from lower energy use will accumulate over the lifetime of the equipment.  Likewise, using less energy reduces the amount of greenhouse gasses emitted into the atmosphere.
Fireplace X and Kozy Heat list all three efficiency ratings and Valor (a Canadian product) only lists the Energuide rating.  While it is important to consider the efficiency rating of each product, they are relatively close for each brand and model, and each highly rated.
3. Gas Fireplace Inserts: Firebox size
Gas fireplace inserts are available in a couple of sizes for each model.  Masonry site-built fireplaces can usually accommodate the larger models like the Valor G4, Fireplace X 616, or the Kozy Heat Nordik 34.  Factory built zero-clearance fireplaces typically require a smaller insert model like the Valor G3.5 , Fireplace X 430 or the Kozy Heat Nordik 29. For very small zero-clearance fireplaces, models like the Valor G3 and Retrofire or the Kozy Heat Chaska 25 are good options.
4. Gas Fireplace Inserts: Flue system
Gas fireplace inserts require a venting system called "Direct Vent" in order to be efficient and safe.  A direct vent fireplace insert has a completely sealed combustion chamber and co-linear bi-directional flues. The flue system is composed of two flues, one drawing hot exhaust gasses from the top of the sealed firebox and vents them directly to the outside.  The other flue pulls combustion air from outside to feed oxygen to the fire.    Direct vent fireplace inserts are completely sealed from the interior of the building in which they are installed.  Thus, no harmful byproducts are released into the home.  They also release much less pollution into the atmosphere than a wood-burning fireplace.
AN INSERT FOR EVERY FIREPLACE
Turn Your Fireplace Into An Efficient Heat Source
Lopi® and Fireplace Xtrordinair® gas inserts allow you to enjoy a gorgeous, glowing fire without losing heat out of your chimney. These inserts are designed to transform virtually any masonry or zero clearance (metal) fireplace into an efficient source of heat. Traditional, open fireplaces can have efficiency ratings as low as 15%, and depending on the condition, can actually draw the heat out of your home for a net heat loss. Our heater-rated gas inserts achieve steady state efficiency ratings as high as 87%.
All of Our Gas Inserts Feature Direct Venting All of our gas inserts feature an efficient co-linear direct venting system. This dual-liner system allows for direct venting through an existing masonry chimney with one liner to vent exhaust and the other liner to provide combustion air and maintain indoor air quality.
Vent-free gas fireplaces are not legal in California for indoor use.  Vent-free gas fireplaces use the available oxygen in the home for combustion and release small amounts of nitrous dioxide and  carbon monoxide, resulting in poor air quality and potential health risks. Vent-free gas fireplaces also produce a high level of water vapor, increasing the humidity in the home and risk of mold growth.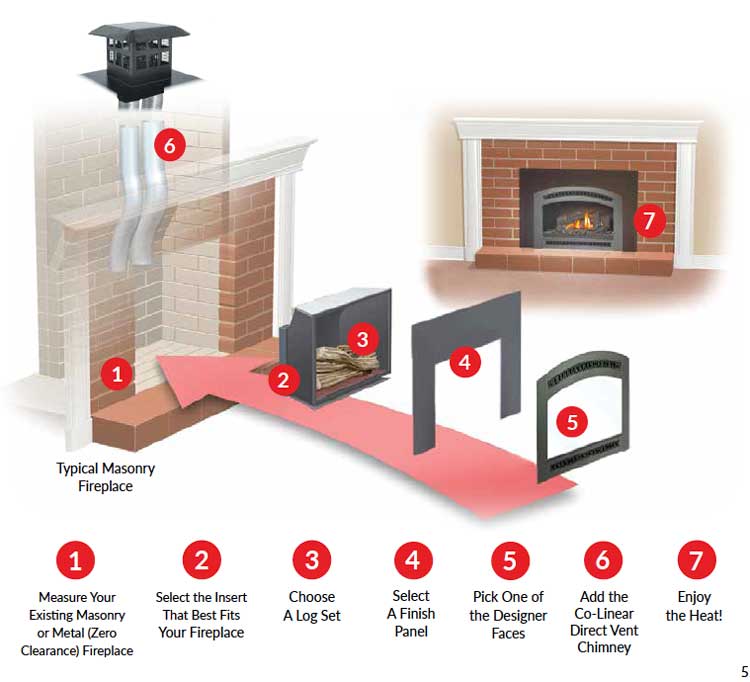 5. Gas Fireplace Inserts: Heat output
Gas fireplace inserts provide a great source of supplemental heat for homes.  It is unrealistic to expect a gas fireplace to heat an entire home, unless there is a very open floor plan and the square footage is less than 1000 square feet.  Other contributing factors include how well your home is sealed and insulated, the height of the ceilings and whether the windows are single or double pane.
However, gas fireplace inserts are really effective zone heaters–delivering heat to your primary living area where you typically spend most of your time.  If there is a central forced air furnace in the home, the thermostat can be dialed back to a lower temperature setting– reducing the need to heat the whole house in order to be warm in one or two rooms.
Once the desired temperature has been achieved in the area heated by the gas fireplace insert, it is not necessary to continue to burn at full flame.  The gas flames can be manually turned down via the remote or controlled by the thermostat option on the remote for deluxe gas fireplace inserts made by Valor, Kozy Heat and Fireplace X.
Every Valor gas fireplace insert comes with a remote.  The Valor remote control lets you select and adjust your desired temperature. The fire automatically adjusts to maintain the temperature of the room, delivering just enough fuel to maintain your comfort level–kind of like cruise control for your fireplace
Kozy Heat offers a thermostat function, flame height modulation, and fan speed modulation with their Komfort Kontrol Remote.
Fireplace X deluxe gas fireplace inserts feature the patented GreenSmart System, a muti-function, wireless thermostat remote control that adjusts flame height, accent lights, and fan speed.  This proprietary system provides an elegant, greener, and smarter way to heat your home.
6. Gas Fireplace Inserts: Warranty
Gas fireplace inserts are covered by Limited Lifetime warranties, which vary depending on the manufacturer. Most warranties cover the cost of parts and labor to repair or replace defective components for anywhere from 1-10 years.  Generally, the manufacturer requires that inserts be professionally installed in order to activate the warranty. This is because improper installation can lead to safety issues, reduced efficiency or performance, and damage to the insert..
7. Gas Fireplace Inserts: Thermostat and timer functions
Gas fireplace inserts offer a range of functions that make it easy to control the heat output and height of the flame from the convenience of your sofa. Flame height adjustment allows you to customize the visual effect and heat output, ranging from 30 to 100 percent flame production. A remote control allows you to adjust the heat output and flame height from any reasonable distance in the room. Valor remotes additionally offer a timer function, allowing you to have your fireplace turn on before you get home from work or turn off after you've gone to bed.
8. Gas Fireplace Inserts: Comfort
When it comes to comfort considerations when choosing a gas fireplace insert, there are a few key points to compare and contrast. Gas fireplace inserts are designed to fit inside an existing wood-burning fireplace, producing flames like a wood-burning fireplace but with the added benefit of being safer, more environmentally friendly and more heat efficient than open wood fires. Heater-rated gas fireplace inserts are reliable heat producers that fill your primary living area with a mix of warm air and radiant heat.
One of the most significant benefits of a gas fireplace insert is convenience. You don't have to split, stack, season or haul logs, and the fire needs no tending and won't die out from neglect. You can start, adjust, and snuff out fires with the touch of a remote control.  Use of the thermostat function can control the flame size and heat output to maintain your comfort level without heating up the whole house to be warm in one or two rooms. If convenience, efficiency, and safety are your priorities, then a gas fireplace insert may be the perfect choice for you.
9. A Gas Fireplace Insert Will Still work During a Power Outage
Each of our gas fireplace inserts will provide heat during a power outage, ensuring zone heating during the most challenging weather events.  While the fan and accent lights (if included) won't be operational, your gas insert will provide radiant heat through the glass window and natural convection through the heat exchanger.  No Power?  No problem!
10. Gas Fireplace Inserts: Cleaning
For optimal performance and safety, it is recommended that you have your gas fireplace insert serviced once per year by a qualified service technician.  Call On Fire for a list of fireplace service technicians.  Part of the maintenance check-list includes cleaning the inside of the glass window periodically.  A by-product of the combustion process in a gas fireplace is water vapor containing a mineral which can appear as a white film on the ceramic glass.  The film accumulates each time the burner is ignited from a cold start, resulting in condensation on the inside of the window.  Over time, this dries as a white film that clouds the glass and can eventually etch the ceramic glass if not cleaned periodically.  Refer to the service and maintenance section of the owner's manual for instructions on how to clean the glass.  You may need to do this in between annual service appointments.  Mineral deposits occur naturally and are not covered under warranty.
If dark deposits appear on the inside of the glass, it usually means something has shifted out of position (such as a log), causing flame impingement and sooting.  Log position is important because it can optimize the beauty of the flame and the combustion efficiency of the fireplace.  Refer to your fireplace installation manual for specific instructions on log position.  If you are not comfortable performing this maintenance, contact a qualified service technician for an appointment.
 In Conclusion
What are the best features of gas fireplace inserts?
Gas fireplace inserts are an efficient and convenient way to enjoy a cozy fire at home. They provide a realistic flame and efficient heat output, and deluxe models come with features that enhance convenience and comfort. The best features of gas fireplace inserts include remote thermostats to automatically adjust flame height for customizable visuals and heat output,  a blower to help circulate the heat throughout the room, battery backups to keep the unit running during power outages, and decorative log sets, glass chips, or stones for added aesthetic appeal.  All things considered, a heater-rated gas fireplace insert is an elegant, greener, and smarter way to heat your home.